Battle Chest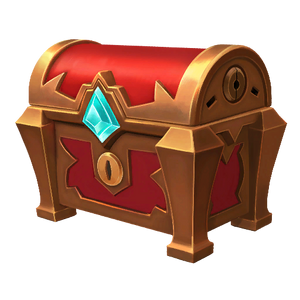 Battle Chests are a type of Treasure Chests in Paladins. This kind of chest can only be obtained from the Battle Pass.
This chest was first released on April 26, 2017.
Contains Common and Uncommon Skins, Emotes, MVP Poses, Avatars and Announcer Packs.
Each Battle Pass has its own Battle Chests, some of which may appear in several Battle Passes. Players who have all Cosmetic Items in one Battle Chest can still receive Team Booster from the chests. In older Battle Passes there was a Battle Chest for each champion class.
Abyss' Destruction Battle Chest
[
edit
|
edit source
]
Champion Skin
Barik

Hi-Tek
(

Rare

)


Grohk

Lobster
(

Rare

)


Grover

Rosebud Canopy
(

Rare

)


Io

Feral
(

Uncommon

)


Jenos

Squidbert
(

Rare

)


Khan

Royal Guard
(

Uncommon

)


Lex

Croakie
(

Rare

)


Ruckus

Lil'Andy
(

Rare

)


Sha Lin

In the Bag
(

Rare

)


Strix

Bad Mother Clucker
(

Rare

)


Viktor

Lone Heart Patch
(

Rare

)

Emotes
Maeve

Disrespect
(

Rare

)


Strix

360 No Scope
(

Rare

)


Torvald

Finger Gun
(

Rare

)

MVP Poses
Cassie

Perch
(

Rare

)


Dredge

Watch the Horizon
(

Rare

)


Evie

Confidence
(

Rare

)


Vivian

Delegate
(

Rare

)

Announcer Pack
Announcer

Bomb King
(

Epic

)

Avatars
Booster
Magistrate's Resolve Battle Chest
[
edit
|
edit source
]
Champion Skin
Barik

Foreman
(

Common

)


Bomb King

Monarch
(

Uncommon

)


Buck

Summit
(

Common

)


Cassie

Coral
(

Common

)


Evie

Evocation
(

Common

)


Furia

Iron Maiden
(

Uncommon

)


Grohk

Beast
(

Uncommon

)


Grover

Autumn
(

Common

)


Inara

Sunstone
(

Uncommon

)


Jenos

Millennium
(

Uncommon

)


Koga

Exile
(

Uncommon

)


Makoa

Montego
(

Common

)


Mal'Damba

Cursed
(

Common

)


Moji

Plum
(

Uncommon

)


Pip

Sulfur
(

Common

)


Sha Lin

Bravado
(

Common

)


Talus

Geist
(

Uncommon

)


Tyra

Alluvial
(

Uncommon

)


Willo

Bluebell
(

Common

)


Ying

Seer
(

Common

)


Zhin

Nomad
(

Common

)

Booster
Resistance's Daring Battle Chest
[
edit
|
edit source
]
Champion Skin
Androxus

Wraith
(

Common

)


Ash

Hellion
(

Uncommon

)


Dredge

Buccaneer
(

Uncommon

)


Drogoz

Tyrant
(

Uncommon

)


Fernando

Daring
(

Common

)


Khan

Royal Guard
(

Uncommon

)


Kinessa

Atomic
(

Uncommon

)


Lex

Lawbringer
(

Common

)


Lian

Dusk
(

Uncommon

)


Maeve

Vagrant
(

Common

)


Ruckus

Sprocket
(

Common

)


Seris

Taboo
(

Common

)


Skye

Pilot Suit
(

Uncommon

)


Strix

Phoenix
(

Uncommon

)


Terminus

Monolith
(

Uncommon

)


Torvald

Arcanist
(

Common

)


Viktor

Khaki
(

Common

)


Vivian

Manipulator
(

Uncommon

)

Booster
Remix Battle Chest (replaced)
[
edit
|
edit source
]
Damage
Champion Skin
Bomb King

Monarch
(

Uncommon

)


Cassie

Coral
(

Common

)


Dredge

Buccaneer
(

Uncommon

)


Drogoz

Tyrant
(

Uncommon

)


Kinessa

Atomic
(

Uncommon

)


Lian

Dusk
(

Uncommon

)


Sha Lin

Bravado
(

Common

)


Strix

Phoenix
(

Uncommon

)


Tyra

Alluvial
(

Common

)


Viktor

Khaki
(

Common

)


Vivian

Manipulator
(

Uncommon

)


Willo

Bluebell
(

Common

)

Emotes
Voice Packs
Bomb King

Bomb King Voice Pack
(

Common

)


Cassie

Cassie Voice Pack
(

Common

)


Dredge

Dredge Voice Pack
(

Common

)


Drogoz

Drogoz Voice Pack
(

Common

)


Kinessa

Kinessa Voice Pack
(

Common

)


Lian

Lian Voice Pack
(

Common

)


Sha Lin

Sha Lin Voice Pack
(

Common

)


Strix

Strix Voice Pack
(

Common

)


Tyra

Tyra Voice Pack
(

Common

)


Viktor

Viktor Voice Pack
(

Common

)


Vivian

Vivian Voice Pack
(

Common

)


Willo

Willo Voice Pack
(

Common

)

Booster
Support
Champion Skin
Furia

Iron Maiden
(

Uncommon

)


Grohk

Beast
(

Uncommon

)


Grover

Autumn
(

Common

)


Jenos

Millennium
(

Uncommon

)


Mal'Damba

Cursed
(

Common

)


Pip

Sulfur
(

Common

)


Seris

Taboo
(

Common

)


Ying

Seer
(

Common

)

Emotes
Voice Packs
Furia

Furia Voice Pack
(

Common

)


Grohk

Grohk Voice Pack
(

Common

)


Grover

Grover Voice Pack
(

Common

)


Jenos

Jenos Voice Pack
(

Common

)


Mal'Damba

Mal'Damba Voice Pack
(

Common

)


Pip

Pip Voice Pack
(

Common

)


Seris

Seris Voice Pack
(

Common

)


Ying

Ying Voice Pack
(

Common

)

Booster
Front Line
Champion Skin
Ash

Hellion
(

Uncommon

)


Barik

Foreman
(

Common

)


Fernando

Daring
(

Common

)


Inara

Sunstone
(

Uncommon

)


Khan

Royal Guard
(

Uncommon

)


Makoa

Montego
(

Common

)


Ruckus

Sprocket
(

Common

)


Terminus

Monolith
(

Uncommon

)


Torvald

Arcanist
(

Common

)

Emotes
Voice Packs
Ash

Ash Voice Pack
(

Common

)


Barik

Barik Voice Pack
(

Common

)


Fernando

Fernando Voice Pack
(

Common

)


Inara

Inara Voice Pack
(

Common

)


Khan

Khan Voice Pack
(

Common

)


Makoa

Makoa Voice Pack
(

Common

)


Ruckus

Ruckus Voice Pack
(

Common

)


Terminus

Terminus Voice Pack
(

Common

)


Torvald

Torvald Voice Pack
(

Common

)

Booster
Flank
Champion Skin
Androxus

Wraith
(

Common

)


Buck

Summit
(

Common

)


Evie

Evocation
(

Common

)


Koga

Exile
(

Uncommon

)


Lex

Lawbringer
(

Common

)


Maeve

Vagrant
(

Common

)


Moji

Plum
(

Uncommon

)


Skye

Pilot Suit
(

Uncommon

)


Talus

Geist
(

Uncommon

)


Zhin

Nomad
(

Uncommon

)

Emotes
Voice Packs
Androxus

Androxus Voice Pack
(

Common

)


Buck

Buck Voice Pack
(

Common

)


Evie

Evie Voice Pack
(

Common

)


Koga

Koga Voice Pack
(

Common

)


Lex

Lex Voice Pack
(

Common

)


Maeve

Maeve Voice Pack
(

Common

)


Moji

Moji Voice Pack
(

Common

)


Skye

Skye Voice Pack
(

Common

)


Talus

Talus Voice Pack
(

Common

)


Zhin

Zhin Voice Pack
(

Common

)

Ninja Battle Chest (replaced)
[
edit
|
edit source
]
Damage
Champion Skin
Bomb King

Monarch
(

Uncommon

)


Cassie

Coral
(

Common

)


Drogoz

Tyrant
(

Uncommon

)


Kinessa

Atomic
(

Uncommon

)


Lian

Dusk
(

Uncommon

)


Sha Lin

Bravado
(

Common

)


Strix

Phoenix
(

Uncommon

)


Tyra

Alluvial
(

Common

)


Viktor

Khaki
(

Common

)


Vivian

Manipulator
(

Uncommon

)


Willo

Bluebell
(

Common

)

Voice Packs
Bomb King

Bomb King Voice Pack
(

Common

)


Cassie

Cassie Voice Pack
(

Common

)


Drogoz

Drogoz Voice Pack
(

Common

)


Kinessa

Kinessa Voice Pack
(

Common

)


Lian

Lian Voice Pack
(

Common

)


Sha Lin

Sha Lin Voice Pack
(

Common

)


Strix

Strix Voice Pack
(

Common

)


Tyra

Tyra Voice Pack
(

Common

)


Viktor

Viktor Voice Pack
(

Common

)


Vivian

Vivian Voice Pack
(

Common

)


Willo

Willo Voice Pack
(

Common

)

Booster
Support
Champion Skin
Furia

Iron Maiden
(

Uncommon

)


Grohk

Beast
(

Uncommon

)


Grover

Autumn
(

Common

)


Jenos

Millennium
(

Uncommon

)


Mal'Damba

Cursed
(

Common

)


Pip

Sulfur
(

Common

)


Seris

Taboo
(

Common

)


Ying

Seer
(

Common

)

Voice Packs
Furia

Furia Voice Pack
(

Common

)


Grohk

Grohk Voice Pack
(

Common

)


Grover

Grover Voice Pack
(

Common

)


Jenos

Jenos Voice Pack
(

Common

)


Mal'Damba

Mal'Damba Voice Pack
(

Common

)


Pip

Pip Voice Pack
(

Common

)


Seris

Seris Voice Pack
(

Common

)


Ying

Ying Voice Pack
(

Common

)

Booster
Front Line
Champion Skin
Ash

Hellion
(

Uncommon

)


Barik

Foreman
(

Common

)


Fernando

Daring
(

Common

)


Inara

Sunstone
(

Uncommon

)


Khan

Royal Guard
(

Uncommon

)


Makoa

Montego
(

Common

)


Ruckus

Sprocket
(

Common

)


Terminus

Monolith
(

Uncommon

)


Torvald

Arcanist
(

Common

)

Voice Packs
Ash

Ash Voice Pack
(

Common

)


Barik

Barik Voice Pack
(

Common

)


Fernando

Fernando Voice Pack
(

Common

)


Inara

Inara Voice Pack
(

Common

)


Khan

Khan Voice Pack
(

Common

)


Makoa

Makoa Voice Pack
(

Common

)


Ruckus

Ruckus Voice Pack
(

Common

)


Terminus

Terminus Voice Pack
(

Common

)


Torvald

Torvald Voice Pack
(

Common

)

Booster
Flank
Champion Skin
Androxus

Wraith
(

Common

)


Buck

Summit
(

Common

)


Evie

Evocation
(

Common

)


Koga

Exile
(

Uncommon

)


Lex

Lawbringer
(

Common

)


Maeve

Vagrant
(

Common

)


Moji

Plum
(

Uncommon

)


Skye

Pilot Suit
(

Uncommon

)


Talus

Geist
(

Uncommon

)


Zhin

Nomad
(

Uncommon

)

Voice Packs
Androxus

Androxus Voice Pack
(

Common

)


Buck

Buck Voice Pack
(

Common

)


Evie

Evie Voice Pack
(

Common

)


Koga

Koga Voice Pack
(

Common

)


Lex

Lex Voice Pack
(

Common

)


Maeve

Maeve Voice Pack
(

Common

)


Moji

Moji Voice Pack
(

Common

)


Skye

Skye Voice Pack
(

Common

)


Talus

Talus Voice Pack
(

Common

)


Zhin

Zhin Voice Pack
(

Common

)

Gearhead Battle Chest (replaced)
[
edit
|
edit source
]
Champion Skin
Ash

Hellion
(

Uncommon

)


Bomb King

Monarch
(

Uncommon

)


Drogoz

Tyrant
(

Uncommon

)


Grohk

Beast
(

Uncommon

)


Inara

Sunstone
(

Uncommon

)


Jenos

Millennium
(

Uncommon

)


Kinessa

Atomic
(

Uncommon

)


Lian

Dusk
(

Uncommon

)


Moji

Plum
(

Uncommon

)


Skye

Pilot Suit
(

Uncommon

)


Strix

Phoenix
(

Uncommon

)


Talus

Geist
(

Uncommon

)


Terminus

Monolith
(

Uncommon

)


Vivian

Manipulator
(

Uncommon

)


Zhin

Nomad
(

Uncommon

)

Booster