Enchanted Forest
Enchanted Forest was one of the maps in Paladins.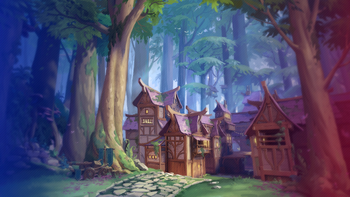 This map had 3 different sections with mirrored layouts and was designed for 2 teams of 5 players. Each section had a Capture Point in the middle. The bases were located at opposite ends of the map. This map featured Stealth Grass.
This map was reworked and divided into smaller maps:
The Enchanted Forest is part of Greenwood, as revealed in here. Alongside Cassie, Grohk is revealed to originate from a river in Greenwood, and Brightmarsh is also revealed to be located in the Enchanted Forest here. It's also revealed Grover, Moji, and Willo originate from the forest as well.
The old in-game map itself is unlikely to be completely canon, though the Enchanted Forest is still the name of a canon location in the Realm, as can be seen in the official map.