Paladins Version 1.7.2876
1.7 - HRX-Treme | October 23, 2018
Overview
Hi-Rez Expo is nearly upon us! To kick off the celebration of all things Hi-Rez and the Paladins World Championship, we're releasing this year's Digital Loot Pack — Including a skin dedicated to last year's winners, Na'Vi. The final Split of the Season is starting up, which means new Ranked Rewards, a fresh Leaderboard to make your mark on, and Crystal rewards for our top players of last Split! Rev up your spirit to be the best as we enter the most competitive period of the year for Paladins.
Ranked reset: Split 3
Update 1.7 will kick off the final ranked split of Season 2.
Soft Matchmaking Rating Reset
New Qualifying Matches
Leaderboard Wipe
New Split Rewards
Reward for playing 25 games
Reward for finishing your placement matches
Leaderboard Crystals
Players who end Split 2 atop the Individual Champion or Grandmasters Leaderboards will receive Crystals. You still have a little time to reach the top!
Overall Grandmasters Leaderboard
Individual Champion Leaderboards
HRX Digital Loot Pack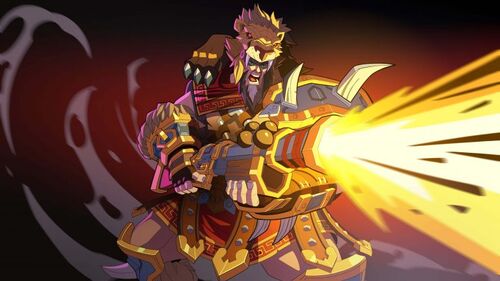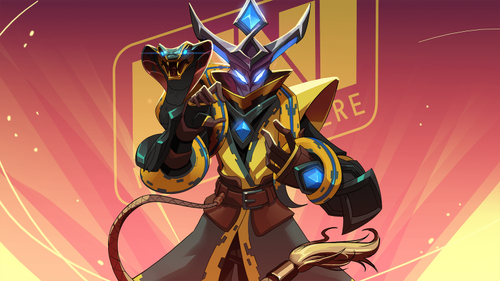 Customizations
Obtainable in the Cyber Chest
The Cyber Chest has arrived featuring our notorious street rat Prototype Koga!
New! Koga, Prototype
Strix, Infiltrator
Grohk, Neon Demon
Kinessa, Cutthroat
Skye, Chrome
Kinessa, Present Arms
Koga, Push Ups
Strix, 360 No Scope
Grohk, Insult
Skye, Flirting
Kinessa, Kneeling
Koga, Catch Ya Later
Strix, Mission Accomplished
Grohk, Elementalist
Skye, Superior
Kinessa
Koga
Strix
Grohk
Skye
Champions - Balance/Updates/Fixes
Defiance
No longer passes through Power Siphon and Reversal
Now properly classified as Area of Effect damage
Added 0.5s Cooldown
"Developer Commentary: Androxus' Defiance is a strong option for burst damage in a close range engagement but the frequency at which you could use the ability was too high. We've added a cooldown so that the timing in which you choose to use the ability holds more weight."
Fixed an issue where Exaction would not apply bonus damage to the crossbow shot after dodge rolling
Fixed a bug where golden weapon would not play the appropriate death FX
Harpoon

Reduced Harpoon's ability to interrupt your inhand fire
Now properly classified as Area of Effect damage
Trigger Radius Increased (66%)
Explosion Radius Increased (16%)
Now reduces Harpoons cooldown by [1|1]s

Now grants ammo on successful harpoon hit
"Developer Commentary: Dredge has a lot of tools at his disposal to fight Frontlines. His Broadside ability in particular is a very effective tool at controlling space. He did not need the shield destroying capability that Hull piercer provided, especially in conjunction with the Hurl talent. We've changed the effect of Hull Piercer to modify the cooldown of Harpoon in order to give non-Hurl-using players the ability to increase their Harpoon frequency."
Fixed an issue where Drogoz's collision cylinder was incorrectly moving with Drogoz's body while using certain abilities
Inflame
Furia will no longer generate ultimate charge from dealing damage while under the effects of her ultimate
Fixed a bug where "Spirit's Domain" would amplify damage dealt to the target by allies
Vine
Fixed a crash condition with Grover's Vine Ability
Void Grip
Fixed an issue where Void Gripped enemies would not rotate to show the direction they were facing
The Law
Now properly classified as Area of Effect damage
Ancient Rage
Fixed an issue where Makoa's melee attacks in Ancient Rage would fail to deal damage
Fixed an issue where you could not heal allies partially obstructed by collision
Fixed an issue where a player with Wekono's Curse equipped would hit a shield with Mending Spirits and deal no damage to the shield
Wrist Crossbow

Reduced damage fall-off
Increased base ammo by 5
"Developer Commentary: Comparing Skye to other Flanks, her potential damage in a single magazine was relatively low. We've expanded her max ammo and effective range a bit to put her on a more even playing field."
Shatterfall
Fixed an issue where reanimating shortly after using Shatterfall would result in an incorrect explosion location
Fixed an issue where Shatterfall would continue even if you killed Terminus in the middle of the ability
Hyper Beam
Fixed an issue that allowed Hyperbeam to pass through Inara's Impasse wall
Fixed an issue that allowed Viktor to gain infinite ammo
Silvertongue Vivian's hair is now silver
Updated Booby Trap's description to display correct amount of damage dealt
Fixed an issue that prevented Ying from healing allies through shields when the Life Exchange talent was equipped
Bug Fixes
General
Fixed an issue where taking damage on certain resolutions would move the players HUD UI
Improved death animations in spectator
Fixed an issue in spectator where the camera would clip into walls when viewing someone in third person perspective
Fixed an issue where abilities that require line of sight would not function against targets that were partially concealed
Maps
Fixed an issue where ground deployables would deploy inconsistently on the second story plank walkways
Under Investigation
Champions using the MVP pose of a different champion