Shore Patrol Battle Pass
Shore Patrol Battle Pass

Release date:
July 17th, 2019
Official name:
Shore Patrol Battle Pass
Season:
7
Cost:
600
Battle Passport:
1500
Level Quantity:
50 Levels
Battle Pass Plus:
50 Levels
Video:
← Steel Forged  •  current  •  Pirate's Treasure →
Official Promotion Page
Shore Patrol is a Battle Pass and started on July 17th, 2019 with the Paladins 2.6 update. The highlights are the new Epic skins for Kinessa, Koga, Fernando and Lian.
In addition, there are many other items to unlock, such as the currencies (200,000x

- 150x

), the chests (

-

-

), a Loading Frame, a Death Stamp, Sprays, Avatars, Team Skin Boosters and Team Boosters.
The seventh Battle Pass can be completed a second time with the Battle Pass Plus track, which gives the player some extra items. This track is unlocked with purchased Battle Pass.
This Battle Pass starts with +50% boosted

Battle Pass XP. After reaching level 41 the

Battle Pass XP is boosted to +75%.
The paid track contains a total of 80,000

and 50

.

Special Items
The free track contains a total of 40,000

.

Special Items
Ultimate Reward: Exclusive Title "should never cook again" - unlocked after completing all Tiers up to Tier 5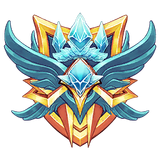 This track become available after completing the Battle Pass the first time. Players who own and complete the Battle Pass will automatically start gaining experience in the Battle Pass Plus Track. This track features new Challenges, experience boosters, Crystals, Sprays, an Avatar, the chests (

-

), and the Limited Beach Bash Recolors!
Battle Pass Plus is only available for Battle Pass Purchasers
Players who have purchased the Battle Pass will automatically begin progressing through Battle Pass Plus after reaching the max level of 50
The Battle Pass Plus Rewards track features the same total experience as the original level 1-50
Plus Track Overview (Paid)
[
edit
|
edit source
]
The Battle Pass Plus contains a total of 80,000

and 100

.

Special Items
Level 10

Level 15

Level 26

Ultimate Reward: Limited Title "is a Lifesaver" - unlocked after completing all Battle Pass Plus Tiers