Time Warp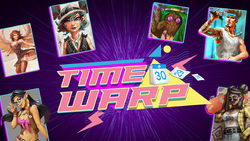 Time Warp is an community event. This event started at August 30, 2019 and ended at September 26, 2019.
Welcome to Time Warp, our month-long completely free decades-themed community event!
Celebrate Decades of Realm between August 30th - September 26th. Every day starting at 4:00am EDT a new community event will start. Win matches to collect themed Champion Sprays and Avatars, or just enjoy 2x Battle Pass Experience!
Be sure to log in each day and earn a first win of the day to receive rewards throughout the four-week period spanning August 30th through September 26th! To receive rewards play against human players, the practice matches against bots don't count.
Support
Champions Unlocked
Front Line
Champions Unlocked
Front Line
Champions Unlocked
Support
Champions Unlocked